Imaginative Solutions to Get the Most Out of Your Limited Spaces
Maximizing your home's interior can save space and money. Small space issues can be resolved with a little imagination and know-how. When it comes to organizing each room's layout, poorly planned storage for tools, appliances, and decor can cause a lot of clutter in most houses.
Why not maximize your space by compressing storage and utilizing every nook and cranny? Here are some clever ways to make use of limited space for your home's layout.
1. Join the Modern Era with a Dining Table That Folds Out
It's hard to believe—but there is such a thing as a dining table that can pull away from the wall. It's an excellent way to maximize the limited amount of space in an eating area, making space for a home gym session or something else entirely.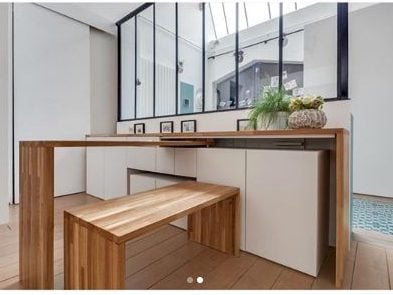 Your dining area will seem more organized due to the table's ability to fold itself away. Consider purchasing a plant that is both big enough to fit on the table and small enough that it won't seem out of place on the floor when the table is removed.
2. Make The View More Panoramic By Mounting Mirrors 
Mirrors can deceive the observer's eyes—which is beneficial for a decorator since they provide a large amount of visual canvas on which to work.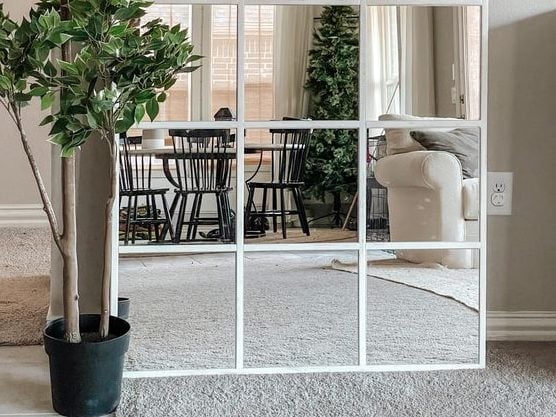 Mirrors have the ability to make a space seem nearly twice as large as it really is. The beautiful contrast between this blue and the white is a wonderful touch. In addition, when you are near a mirror, you cannot help but stare at yourself, which means that you will never need to wonder whether your hair looks great or not.
3. Bask In The Past From A Cozy Window Seat
The concept of a window seat may sound quaint, but in reality, they are both functional and aesthetically pleasing. Put in a deep cushion so you can curl up on it with a nice book on a warm spring day or a soft blanket and your cuddly dog on a chilly autumn night.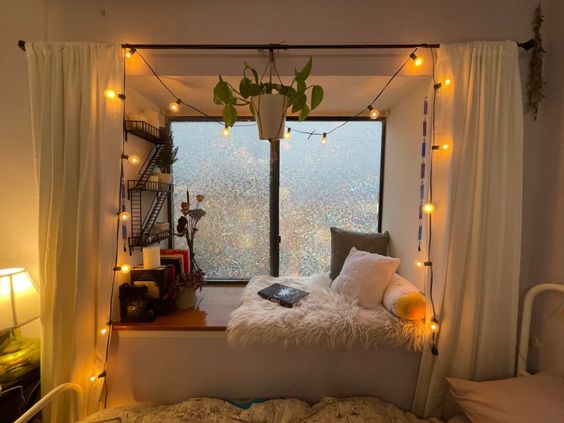 An excellent spot to stow your books and blankets is in the cubbyhole beside or below your window seat. Adding some accent pillows can be a nice touch.
4. Clear the Clutter From Beneath Your Feet With Storage That Fits Under the Floor
There must be a compelling explanation for why this kind of design decision occurs only in the fictional worlds of film and television and so seldomly in real life. Storing items under the floor is an excellent idea. It doesn't only save space—it takes up no room at all.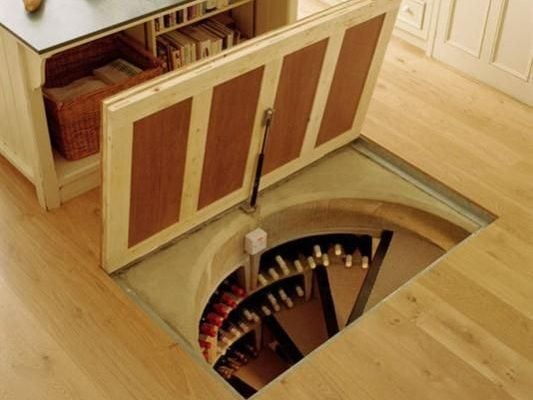 Since it's such a novel idea, robbers are unlikely to look for storage beneath the floor. You could probably have more peace of mind in storing valuables in this location than anywhere else.
5. Optimize Your Kitchen Organization With Wall-Mounted Refrigerator Drawers
These hanging refrigerator drawers are a lifesaver for those who have to work with a limited amount of storage space in a refrigerator. With just a small amount of each loose food item, it might be challenging for one person to keep their refrigerator well-organized.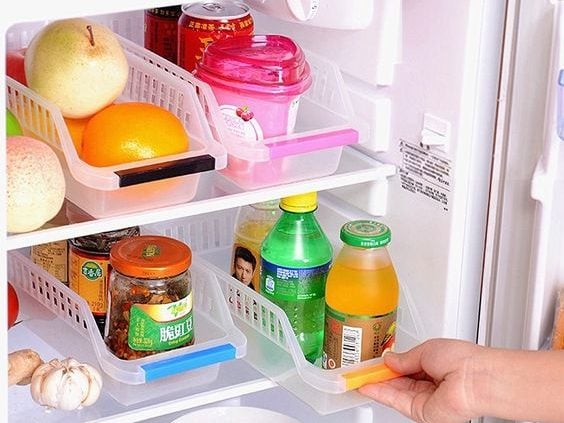 These convenient wall-mounted drawers are available in a wide range of colors, from white to match your refrigerator to a rainbow of options. You should make the most of your refrigerator's storage capacity right now.
6. Choose A Coffee Table That Won't Spill Your Secrets
If you're cramped for space, you'll need all the help you can get. This coffee table offers an ingenious approach to the problem. You can keep your coffee table stocked with the things you use most frequently when relaxing on the sofa, such as the remote control and a drink coaster.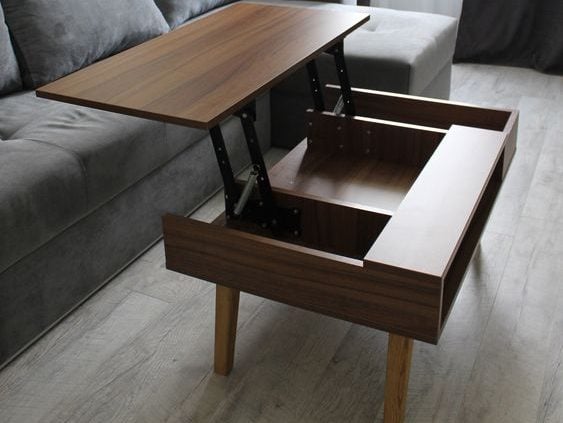 Assuming you don't have any young children in the house, the coffee table is a great place to stow away anything you'd rather keep hidden from visitors. Just put away the coasters and remotes first.
7. Incorporate Drawers Under Your Stairs For Storage
All available space has to be put to use to maintain a comfortable lifestyle in a confined area. Installing these closets under the stairs is such a stroke of genius. There are a few nooks and crannies, but most are tall, deep drawers that can accommodate plenty of items.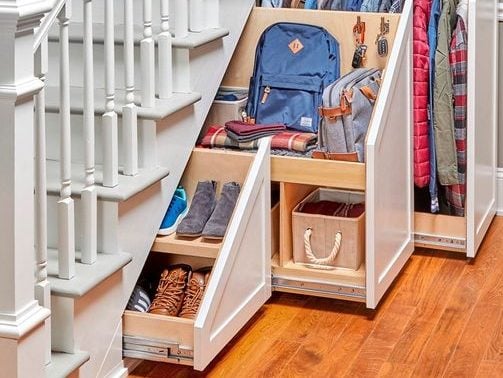 You will have simple and fast access to whatever it is that you need to store since the drawers will be located right in the hallway and are within arm's reach of every room on the ground level.
8. Enjoy Every Moment In Your Spacious Studio
Some apartments are not planned in an efficient manner, but this one looks well separated. This designer has made the most of all the available space while keeping a nice aesthetic. Everything you could possibly need has a specific home on one of the numerous built-in shelves.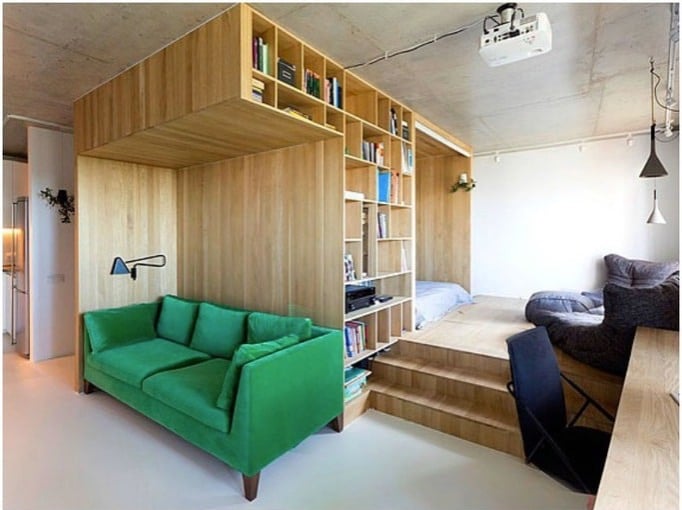 The Kelly green couch really livens this scene up, but you could make even most of this space by bringing in some more strong color contrast in the furniture or on the walls.
9. Use Small Glass Furniture to Trick the Eyes
It only makes sense that a small space works better with small furniture, but what type of small furniture works best? For one, go with glass top tables. Because they are clear, they make the room appear larger than normal tables.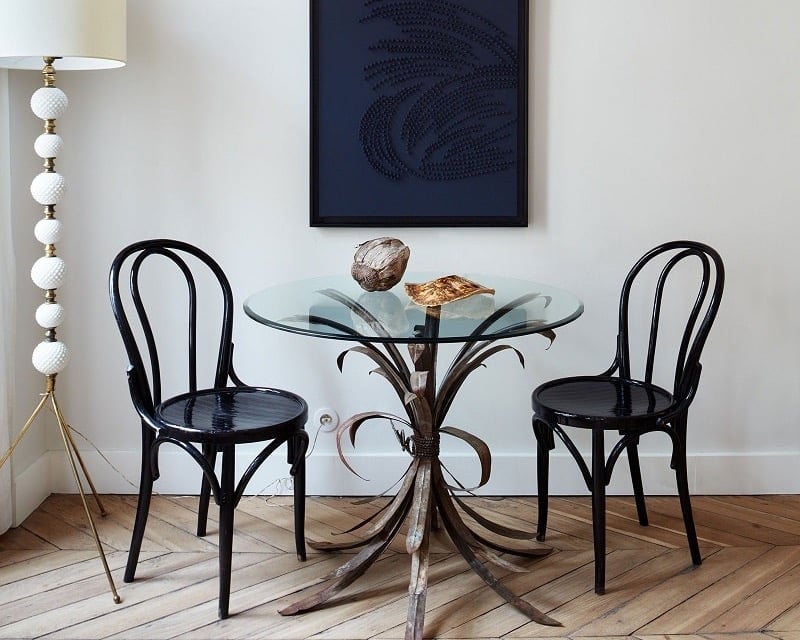 If you must go small, and are opting for a glass top, you will need to concentrate on the design of your piece. This table is the perfect example. It has all the pizzazz. It may be small, but it isn't silent.
10. Read or Rest in a Versatile Storage Nook
Isn't this little nook just amazing? The possibilities are endless in this tiny room. You can read comfortably with pillows and a blanket, all the while utilizing the shelf for an essential oil diffuser. You can nap and set an alarm.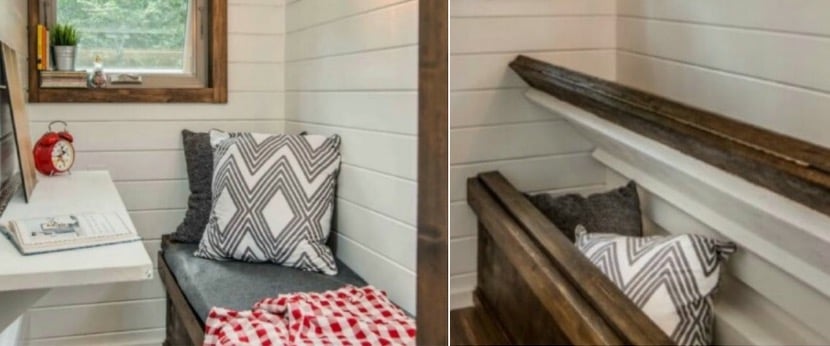 Under the bench, there is room to store all your blankets and pillows for company. The shelf folds up just in case you need to use the nook for all-out storage of something like a mattress and box spring.
11. Elevate Your Bedroom in More Than One Way
Elevating your bed works in more ways than just one. First, of course, you lift it higher off of the ground. This obviously makes for more storage underneath, but what type of storage?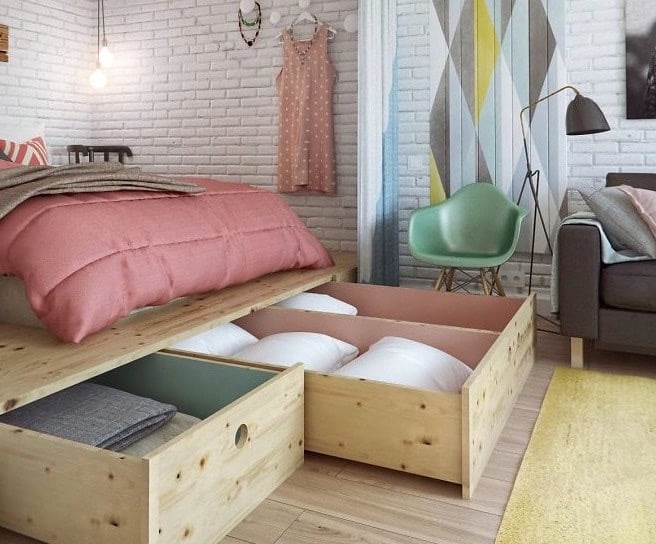 This is where second comes in. Use a beautiful bed skirt, and look for lovely shallow baskets that will slide underneath your bed. You can elevate your bed right now with some cinder blocks and 2″ x 4″ wood planks.
12. Make Them Smile With a Triple Trundle Bed
When you have more than one child in a bedroom, it's especially important to make the room fun. With this triple trundle bed and a little imagination, you can take your kids' room to the next level.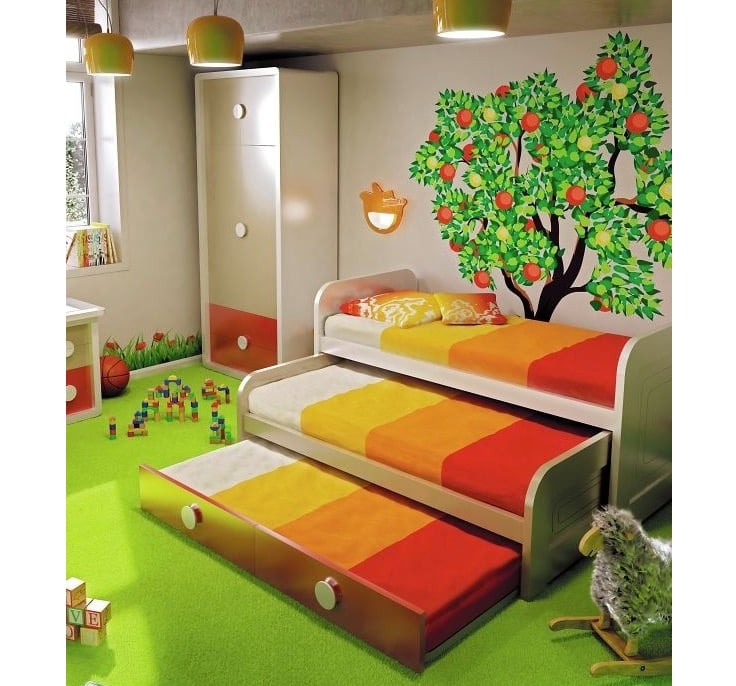 When this pull-out bed is pushed in during the day, there is plenty of room for the children to spread out their toys and play. At night, though, there is also plenty of room to get a good night's sleep for school the next day.
13. Hang Bookshelves Over Your Doors to Give the Space Personality
A space that is most often totally wasted is the space over your doors. Sure there's not a lot of stuff that will fit in a space so short, but after a little thought, you can get creative. For example, use it to store some books that you don't need to access very often.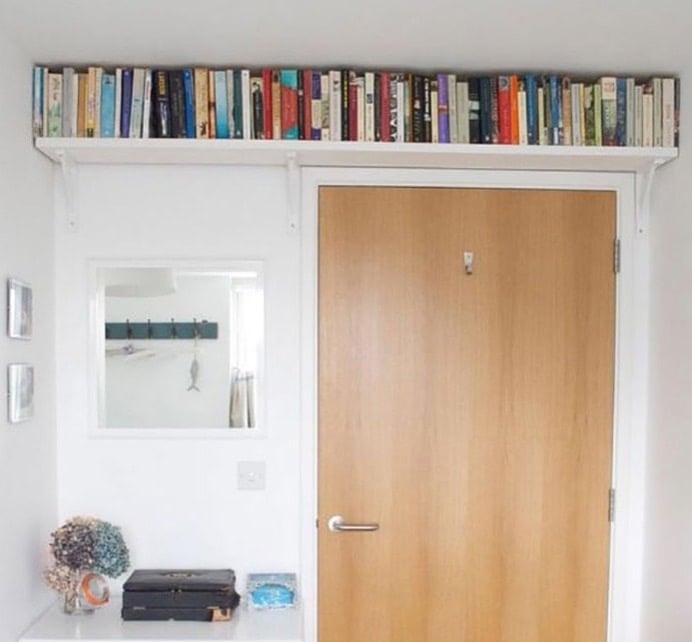 It makes sense and it looks nice. Plus, you don't have to relegate the shelves to only books, just to short stuff, like knick-knacks or small plants.
14. Consider the "Kiddom" Dream — A Play World Under the Bed
Wow, what fun! It's a world of play that just rolls under the bed at bedtime. This is such a phenomenal idea for kids. With three drawers, you can play at least three different ways, but with open play, the worlds go far beyond that.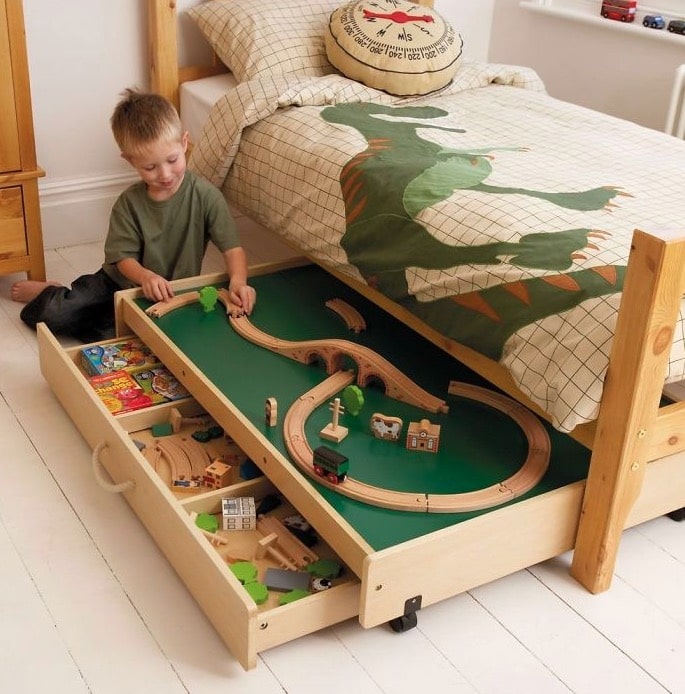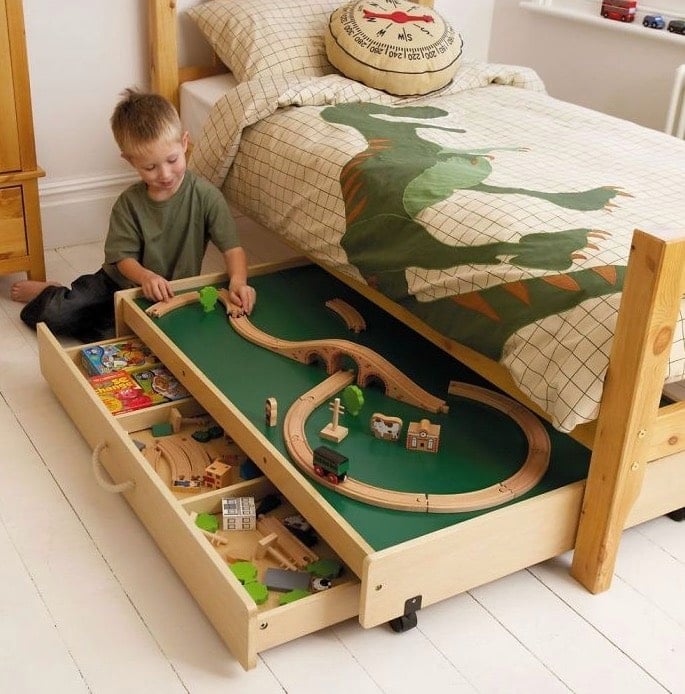 The top tier is designed to let your child make, play, and display whatever they want — a city for cars to travel around in, a river by which Army men can take sides, or an auditorium for a fashion show. Then the drawers underneath give your child a place to store their toys and figures when playtime ends.
15. Open Up Your Kitchen With a Murphy-Style Kitchen Table
Hardly anyone has enough space in their kitchen unless they just don't eat there. A common issue is that the kitchen table sometimes can be a catch-all. One way to avoid this is with a Murphy-style kitchen table. Just fold it out when you need to use it, and tuck it away when you don't.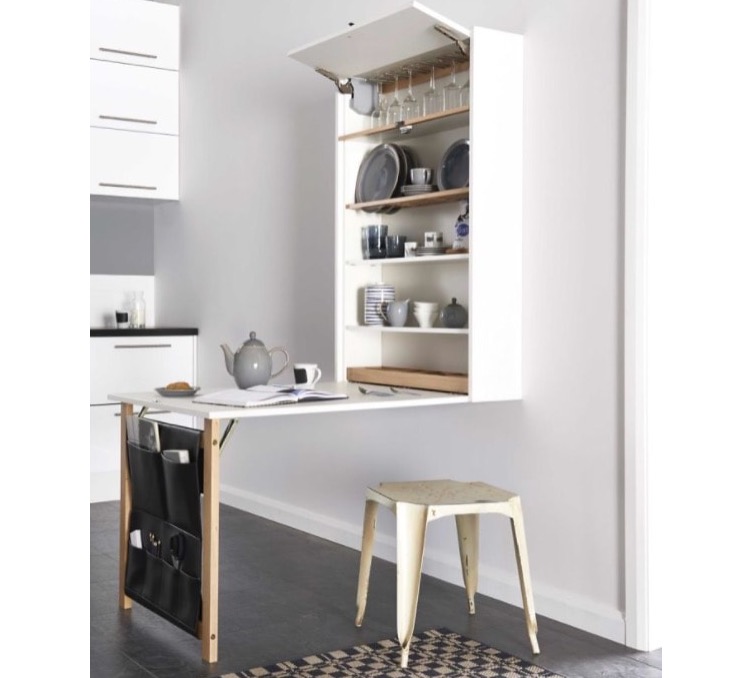 The cupboard inside gives you room to store place settings, salt and pepper shakers, a sugar bowl, and more. Between the table legs is a pocket storage area for your Farmers' Almanac, your favorite book, or whatever you need at your fingertips in the mornings.
16. Organize and Modernize Your Kitchen With a Pegboard
What a wonderful idea! Whoever thought of this was a genius. Keeping your pots and pans in your cabinets not only takes up tons of space but also tends to scratch your pots and pans. Plus, it is a chore to take them all out and unstack them just to get the one you need.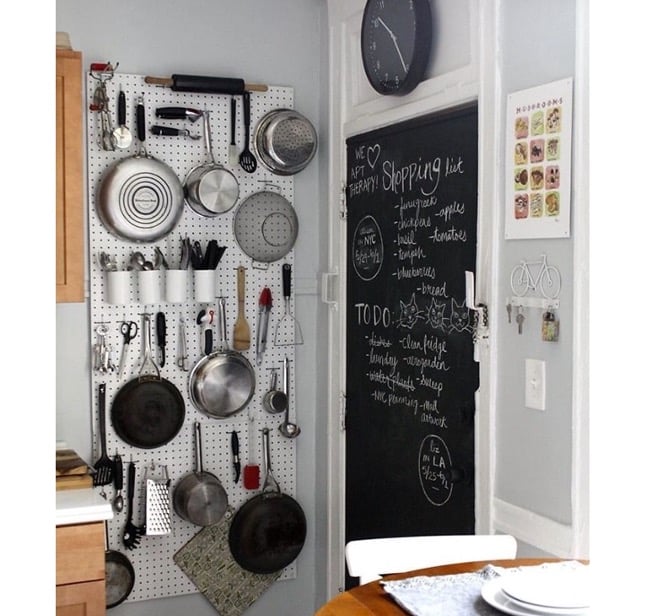 With a pegboard, you not only can get the pots and pans out of your cabinets but also things like your colanders, graters, cooling grates, and cooking utensils can be hung as well.
17. Get Double the Use Out of Your Shelves
Shelves are useful as they are. They give us a place to store stuff that would otherwise be in a box somewhere or in a drawer. So, when you talk about doubling the use you get out of them, that is really something. Here is how you do that — by using the underside of a shelf, as well.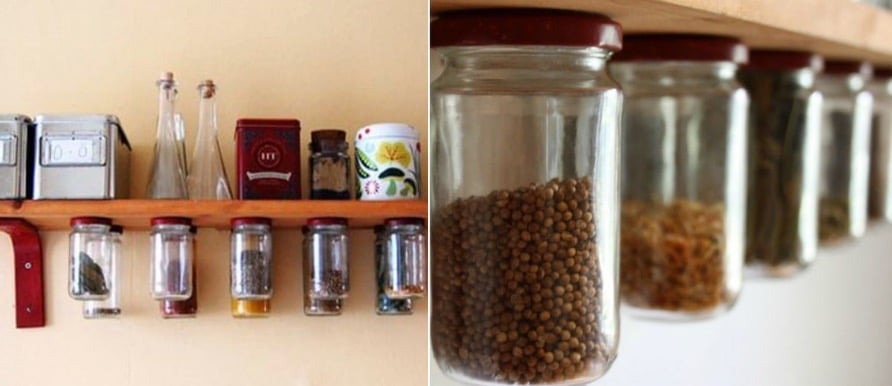 What a great idea this is! Just attach the lids, fill your jars, then screw your jars onto your lids, and let them hang.
18. Hide Away a Full Closet Under the Stairs
When there are two of you, and often when there is only one, in a small space, it's hard to find enough closet space. This under-the-stairs closet is a wonderful remedy.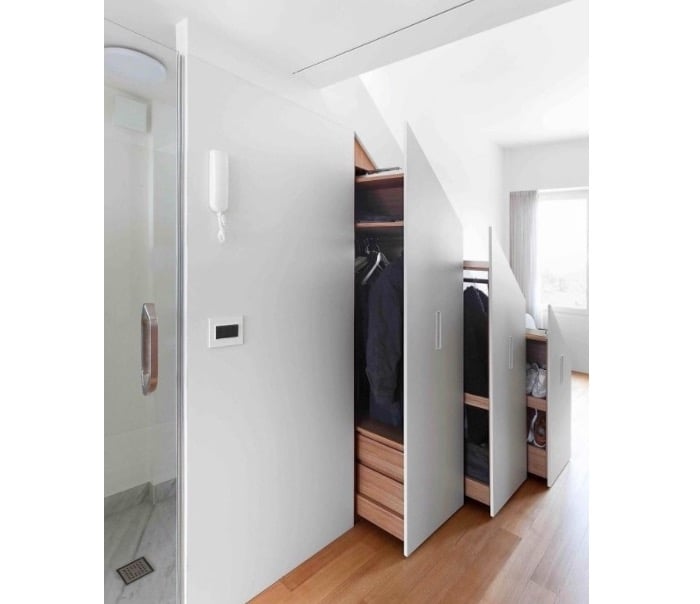 There are racks for hanging clothes, drawers for unmentionables and accessories, and even racks for shoes. The question here, really, is — Why haven't you thought of this before?
19. Get Your Money's Worth Out of a Triple-Purpose Headboard
This homemade-looking headboard is beautiful and triple-purposed. First, it's a nice headboard, a piece of furniture for the head of your bed. Second, there's a shelf across the top for your glasses or whatever you may want to put on it.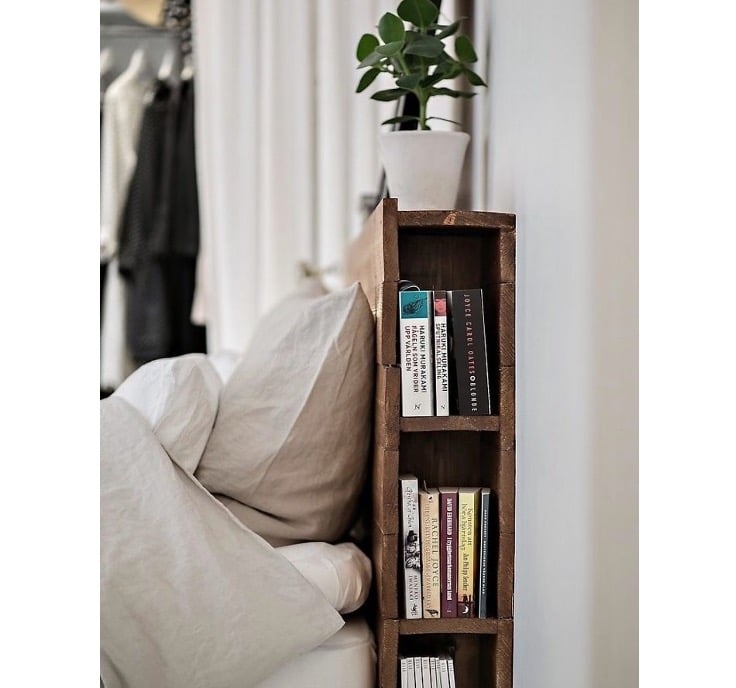 Lastly, there are bookshelves on both ends of the headboard, so that you can choose your book, read it, and put it back all from the comfort of your bed.
20. Look Bigger Than Life in a Miniature Vanity
There is absolutely no room, nor adequate light for putting on makeup in a small bathroom. Design yourself a small vanity similar to this one to solve such an issue.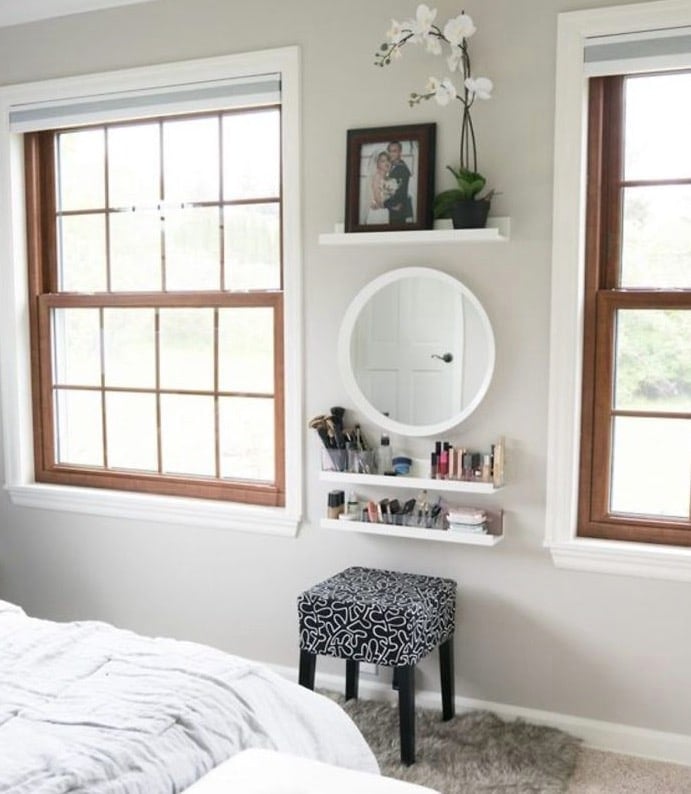 All it takes is a snazzy but small stool or chair, a couple of floating shelves with sides, and a medium-sized mirror. Place it where you can get ample natural light. Voilà — you have created a vanity personalized just for you.
21. Clean Up by Tucking Away Your Washer and Dryer Set
Your washer and dryer set can be an eyesore. Even if it is new, it just isn't the kind of thing that makes a fashion statement, plus, in a small space, it's going to take up a lot of room.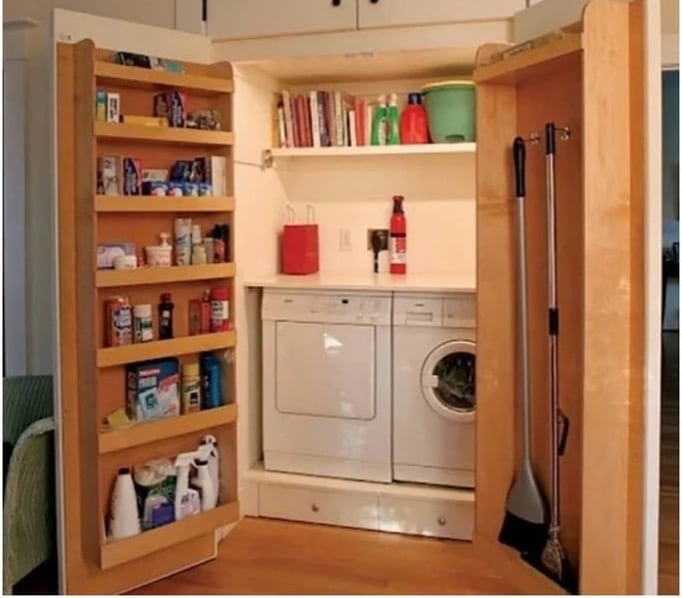 Try tucking away your set into a closet. Not only will it give you your space back, but it will also help you feel more organized with all your clothes and washing supplies stacked neatly by your machines.
22. Make Bedtime Exciting with a Twisted Triple Bunk Bed
Bedtime and kids don't always go together so well, but it is truly easier if your children have a place to sleep where they feel at ease and happy. Give your kids bunk beds like these.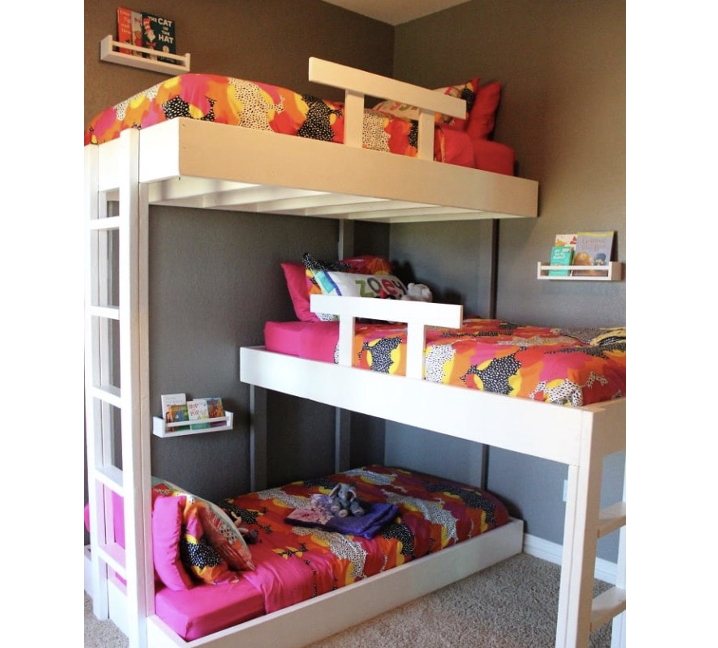 This twisted triple bunk bed will make anyone's kids smile. It doesn't have all the kids jammed up on top of each other, but there is still plenty of room for play and study.
23. Build an Entire Kid's Bedroom Utility on One Wall
This is a really great set-up for a child. On one single wall, there are places for their clothes, their shoes and accessories, their toys, and their bed.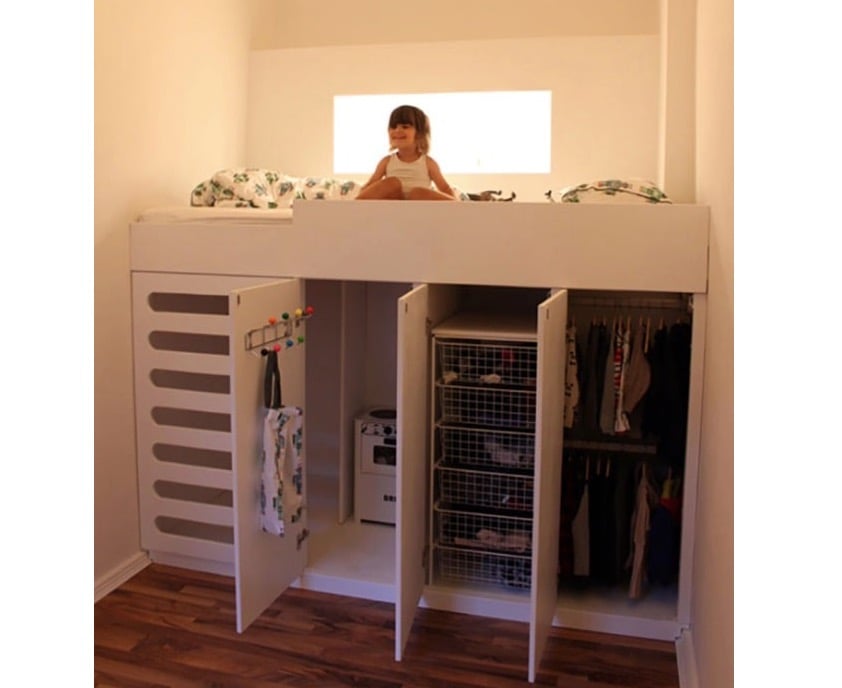 Not only is it neat and clean, but it leaves the whole rest of the room open where you could make a reading nook and still have tons of play area. If the room looks a bit plain to you, get out the paint, and throw some color on it.
24. Keep Your Bedtime Library Close At Hand
Here, we have a really eye-catching project. It's a drop-ceiling that doubles as a lovely, lighted bookcase. The top is left open, so you can use it to show off your plants or your favorite pottery.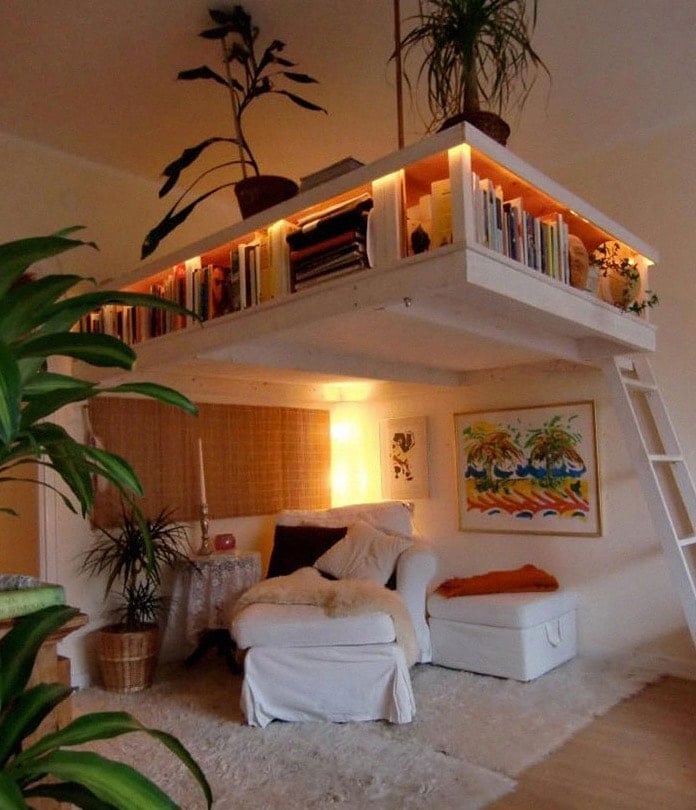 Note that there is a ladder for those who may not be tall enough to reach the books on their own. Also, appreciate the contrast of the color inside the bookcase with that of the room. You will be able to enhance the darker area below with pillows, a throw, or a piece of art.
25. Stuff Your Stairs with Drawers
An idea that first started in tiny homes, stuffing stairs with all manner of things is a wonderful way to save space. As you see here, every step can conceal a drawer. You can store blankets, linens, towels, shoes, sweaters, jeans, books, and more. The possibilities are almost endless.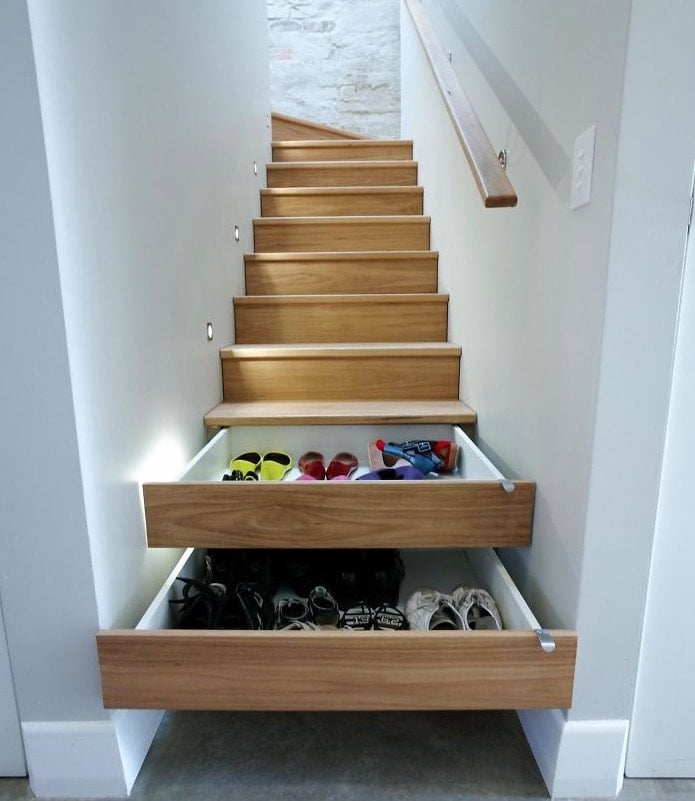 You will find yourself wondering what you ever did before having this much storage space.
26. Lessen the Hassle with a Bedside Organizer
This bedside organizer can change your bedtime life. Always losing your phone, remote, or glasses? You will always know where they are with this bedside organizer.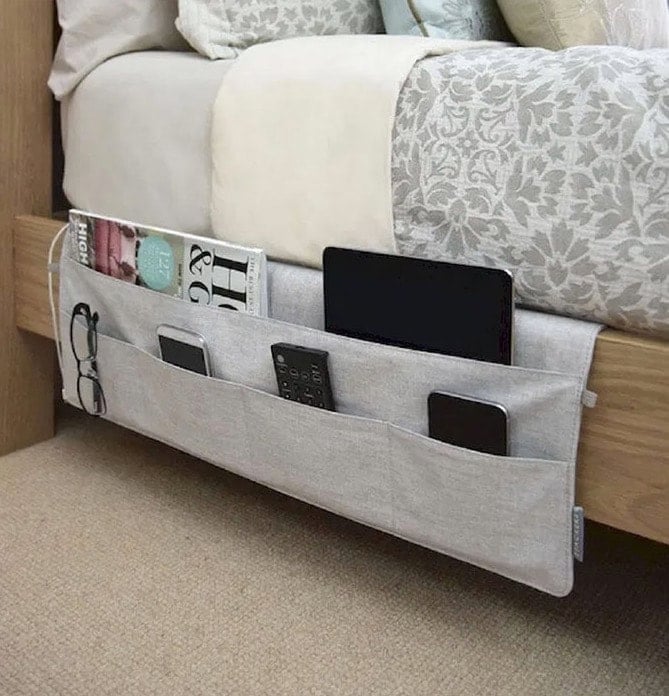 You may even be able to get rid of your bedside table altogether with a clip-on reading lamp. They come in different colors, too, to match your bedroom motif.
27. Eat Bigger with a Bench
Using a bench instead of chairs on the rear side of your dining room table, not only makes a fashion statement of the best kind but also makes room for more people to sit for a meal on that side of the table. Plus, with a thick, cozy cushion, everyone will be vying for a seat on the bench.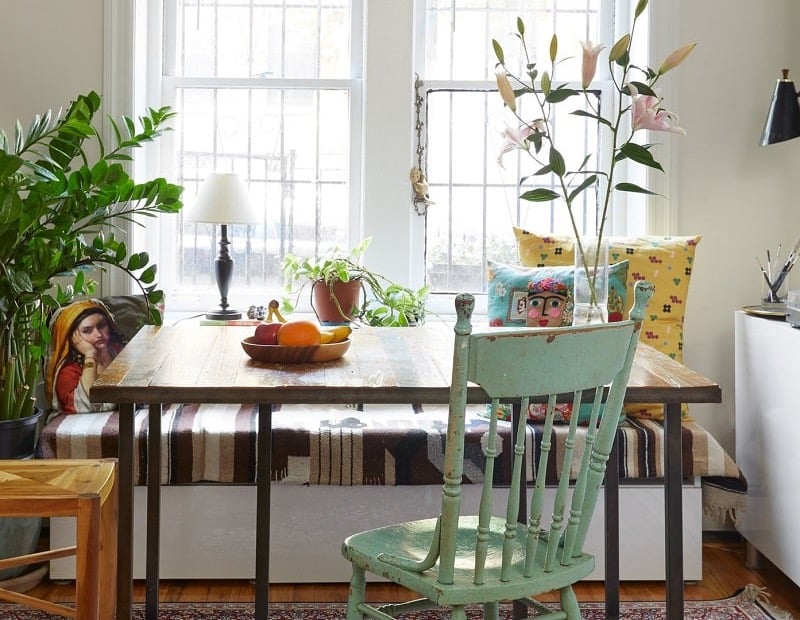 Go with this sassy "add what you like" look or go with a more perfectly color-coordinated and texture-matched look, but either way, benches can create an effective style.
28. Slide Baskets Into Shelves to Make Beautiful Drawers
Another great idea for making the most of your small space is to measure the width, height, and depth of your "cubbyhole" shelves and shop for baskets that will fit well inside. This idea means using these baskets like drawers.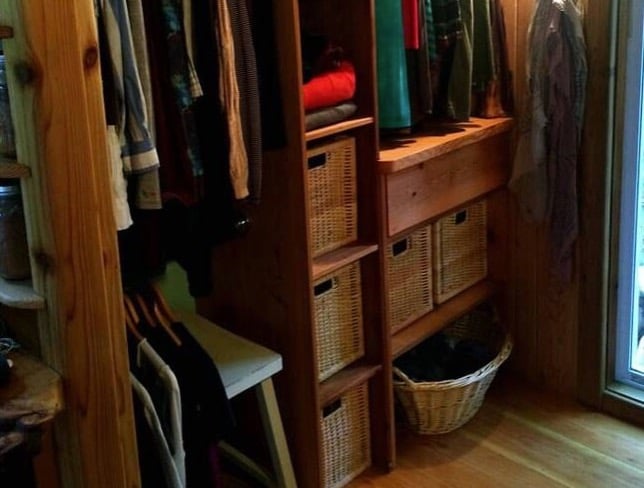 You can use these "drawers" in your closet to keep accessories like scarves, belts, or purses in, or you can also put this same idea to work in the bookcase or the shelves in your linen closet. More organization means fewer headaches.
29. Give Them Their Bunk Bed Privacy
Bunk beds are great and all, but they normally aren't at all about privacy. These bunk beds put an end to all of that. These bunk beds open to opposite sides with a wall on the other side, giving the person complete privacy.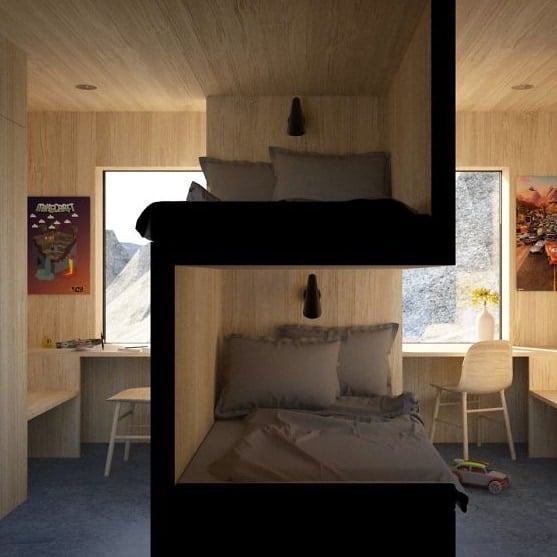 With a little creativity, maybe a divider or a curtain, this idea could turn one room into two completely separate spaces.
30. Organize Your Cleaning Supplies With a Peg Rail on the Door
Our cleaning utensils get stuffed into a closet, and we are so happy that we can close the door because ironically the cleaning closet is always a mess. However, by just doing something as simple as handing a peg rail on the back of the door to the closet, you can clean up a lot of that clutter.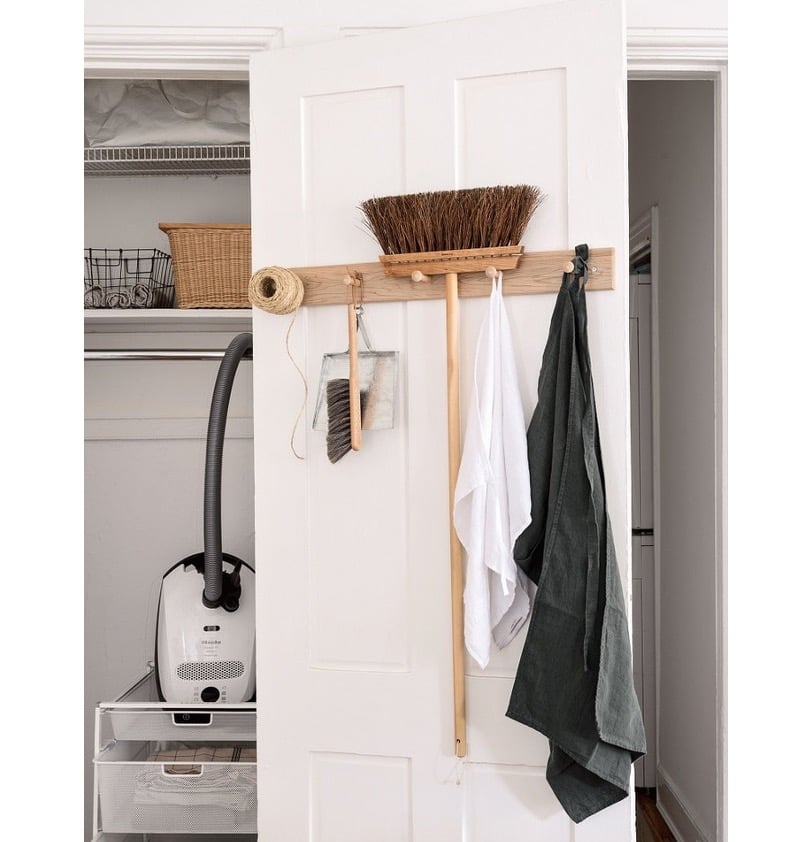 They sell all types and sizes of peg rails and hooks that you could use to organize your cleaning closet so that it will be as clean as the rest of your home.
31. Keep Your Secrets Underneath You With Quintessential Bed Storage
While probably not a great place to hide your valuables, this would be an awesome place for storage of all kinds of things from pillows, blankets, and linens to coats, sweaters, and other winter clothes in the summertime.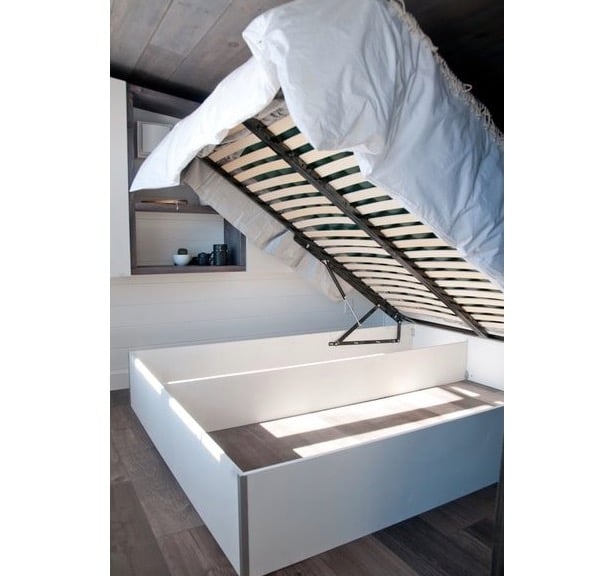 Plus, you don't have to worry about things rolling under your bed and having to fish them. Box stores sell all different sizes of boxes. You could organize your stuff and take advantage of every inch of space.
32. Add Life to the Room by Hanging Floating Corner Shelves
The corners of a room can make the space look drab and flat, but something as simple as a few floating corner shelves can make all the difference. Here, two shelves are used to get knick-knacks out of boxes. One shelf is used to show off an old clock-radio, and one is used to sport a healthy plant.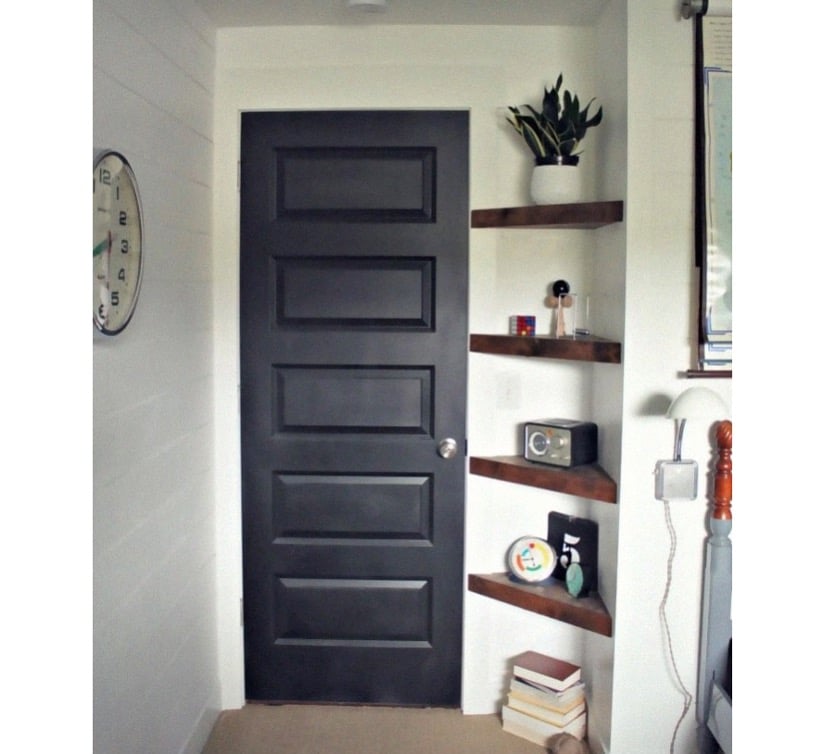 The stack of books on the floor even looks good with all the other stuff lined up directly above it. This is an inexpensive way to brighten up a room and small space.
33. Let Your Purchases Pay Double-Time With Rolling Service and Storage
Don't laugh. It may be more helpful than you realize. Roll carts are great for the service and storage of bars in a small space, but that's not all. Have to do your makeup routine in the main bathroom but don't have room there to keep all your personal items? Put it all on a rolling cart, and take it to the bathroom with you.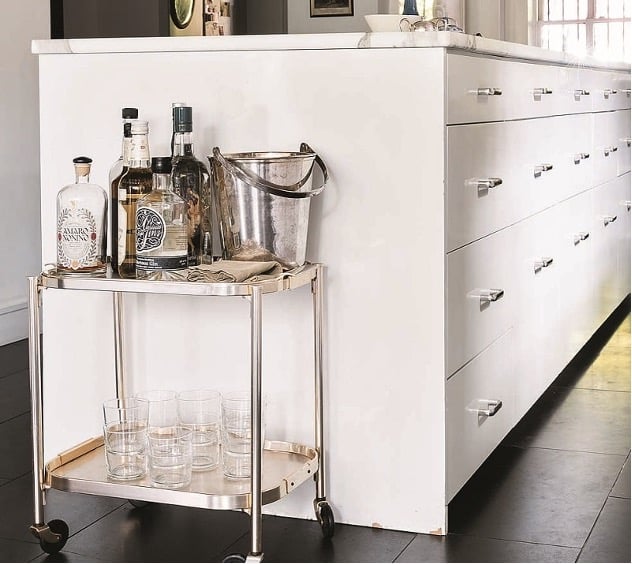 Have a large family? Use your cart on wheels to hold tubs for dishes, like bus pans. Then, store the clean place settings on the cart for the next meal. Be as creative as necessary in order to get the most out of your wheeled cart purchase.
34. Simplify Your Life with an All-in-One on a Wall
Any single adult needs three things in his bedroom. He, or she needs, at a bare minimum, a bed, a closet, and a desk, and here, you have it all on one wall. It's tight, too. You can almost reach down to get your clothes from your bed.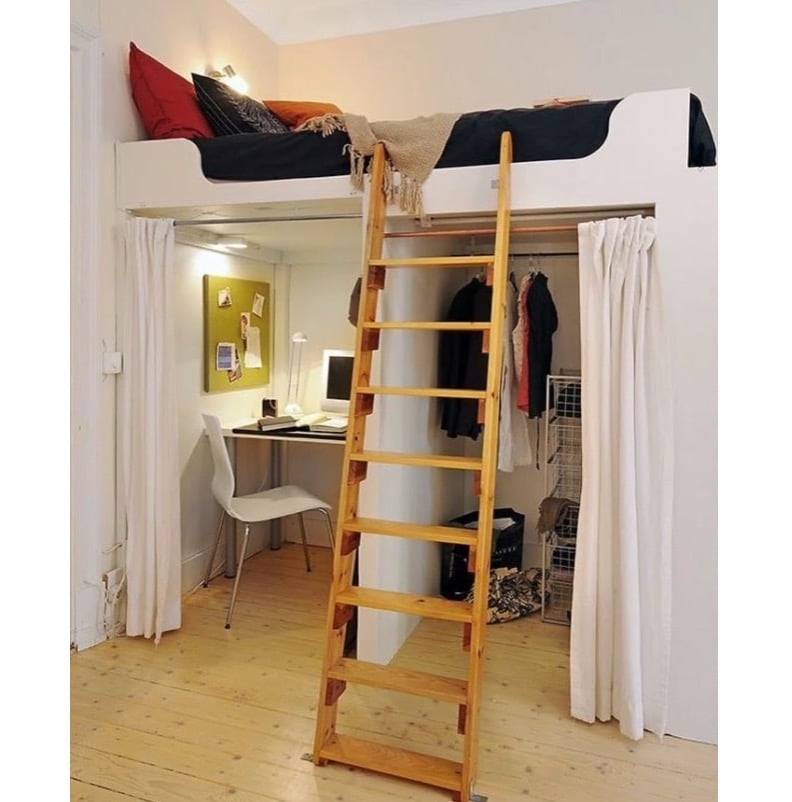 This way, you have plenty of room for a couch, a workout machine, a pinball machine, a vintage Centipede video game machine, or whatever else you can fit into your personal small space.
35. Save Space and Decorate by Utilizing Your Window Sills
Many people just don't think of a window sill as anything else but that — a window sill. However, a window sill can have personality. It is a great place for a vase or statue. Best of all, though, window sills are great places for plants.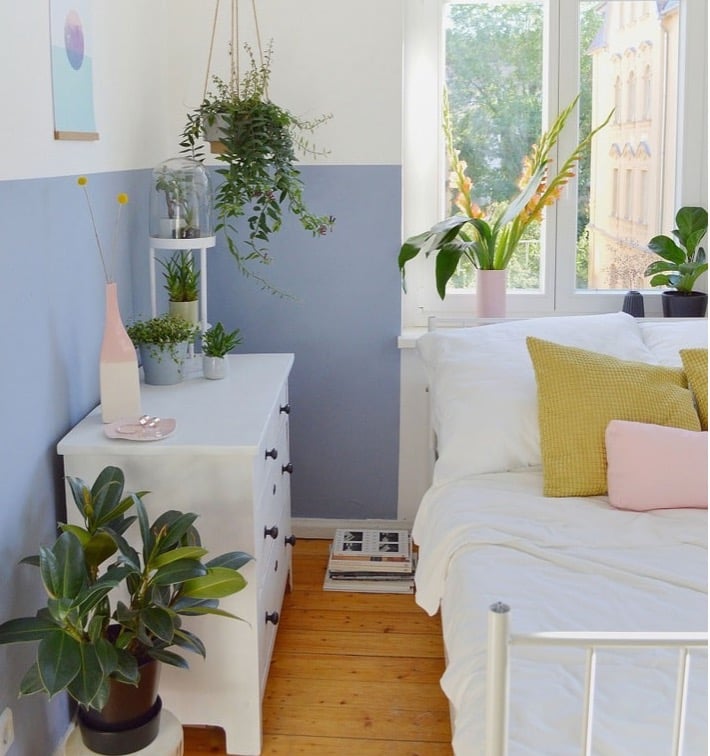 Not only is this a great place for your beautiful plants to get noticed, but they can get plenty of sun at the same time.
36. Repurpose Your Office When Company Comes With a Murphy-Style Bed
This Murphy-style bed would save you a lot of space. You could forego the guest room by putting one in your office for when company comes. Not only does a bed fold out, but when the bed is folded away, a table comes into play. Talk about utility!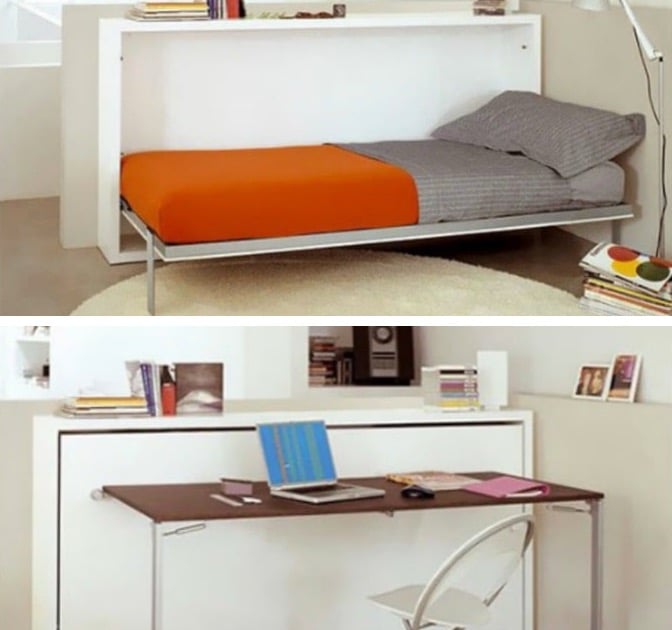 Sure, if you have more than one guest, you're in trouble, but you probably have a couch. Not everyone has an extra room they can turn into a guest room.
37. Make the HVAC Unit Disappear
You can do a lot to a room with paint. You can color it, use contrasting colors to highlight parts of it or items in it, or like in this room, you can use what are usually dark colors to make things disappear.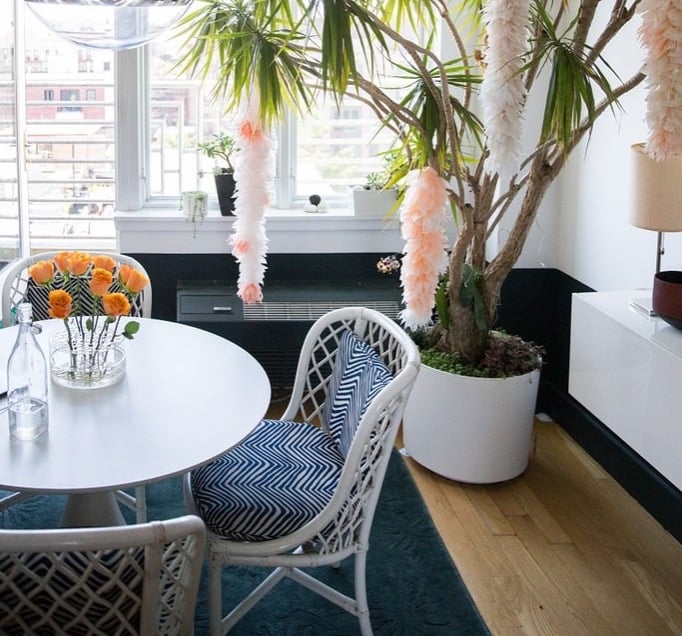 In this photo, that ancient eye-sore of an HVAC unit has all but vanished into the black part of the wall leaving a wall with a white against black contrast that opens up the room and welcomes the sunlight.
38. Hide and Glide With This Slide-Out Headboard Shelving
Your glasses, phone, remotes, wallet, books, headphones — whatever things you may need, are at your fingertips with just a quick slide. Then, just as quickly, hide them away with a smooth glide.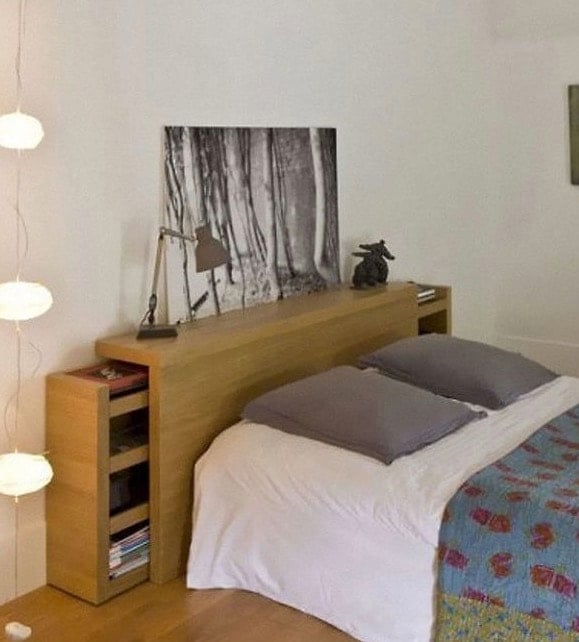 A good idea and nice-looking, this headboard shelving is great for any room and can be dressed up or dressed down. The photo depicts simple decor, but a splash of red in that wall art with a red comforter, those gray pillows, and a few white pillows — can dress up the space a bit.
39. Hang Towel Racks on the Door for Utility and Flair
There is probably already a towel rack in your bathroom that either displays a set of decorative towels matching your shower curtain or holds the towel you used the last time you took a shower. The third option is there may be a pair of jeans and a t-shirt on the towel rack and five damp towels on the floor.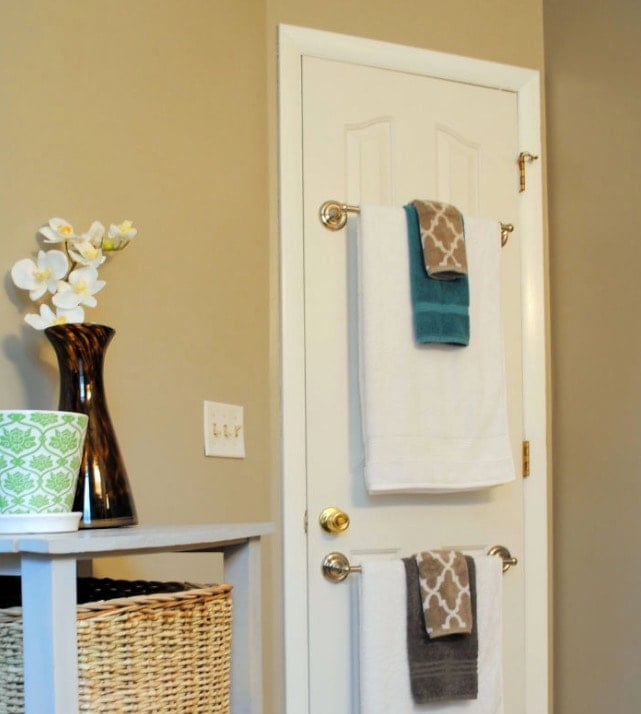 Hanging a couple of towel racks on the back of the bathroom door will give you a place to either spruce up a little or get all those wet towels off the floor until it's time to do laundry. I mean — how many laundry baskets can you have in a small space?
40. Work at a Desk that Blends In
Some of us like our objects and plenty of them, and others are minimalists. No matter which one you are, if you live in a small space, you simply don't have the luxury of being able to opt for a desk surrounded by objects.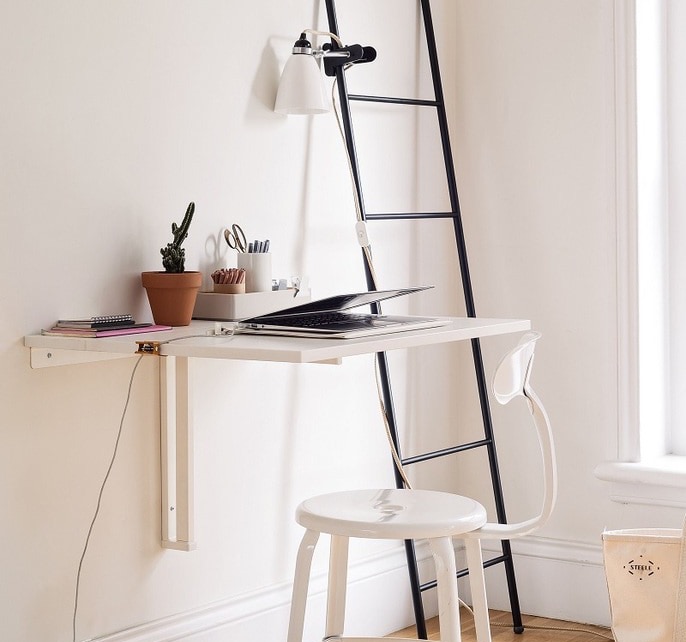 Whether it's a place where you can work or pay bills or a place for the kids to do homework or art, a small desk like this is perfect for a small space. Another plus of this particular desk is that it almost completely blends into the white wall.